About three weeks ago, I  wrote on this blog how important it was for me to share this trip with someone. It is suprising, I guess, that this week, Jona and I decided to temporarily split up in order to cycle different routes across the Balkans. Here is why and what happens next.
I was quite worried about carrying on alone. As some of you know, I tried cycling alone before — and didn't like it. In 2014, after ten days through April-cold France I was simply bored. But now I try again. Jona loved the idea of seeing southern Bavaria and then cross the Alps into Italy. From there he wanted to visit Slovenia and follow the Croatian coast down to Albania and Greece.
Alps versus Danube
This is certainly an amazing route. But I openly admit that the prospect of going up 10,000m of altitude with a fully packed bike that weighs approximately 40kg without me being on it — made me sigh. Especially since the Alps aren't even on our way to Asia. To my defense: Jona's dream route would not only have made my legs explode, it would also have prevented me from passing through Vienna, where I planned to spend a day or two with my dear granduncle and aunt, Volker and Annemarie.
This is why Jona is now heading south without me and I am taking the kiddy route along the Danube. And I love it! Not because I discovered that travelling alone is better (it isn't). But because every evening I take a bath in the river, let my body dry in the warm evening sun (as I am doing while writing these lines), and then pitch my tent right at the water in high speed to avoid the attack of thousands of mosquitos.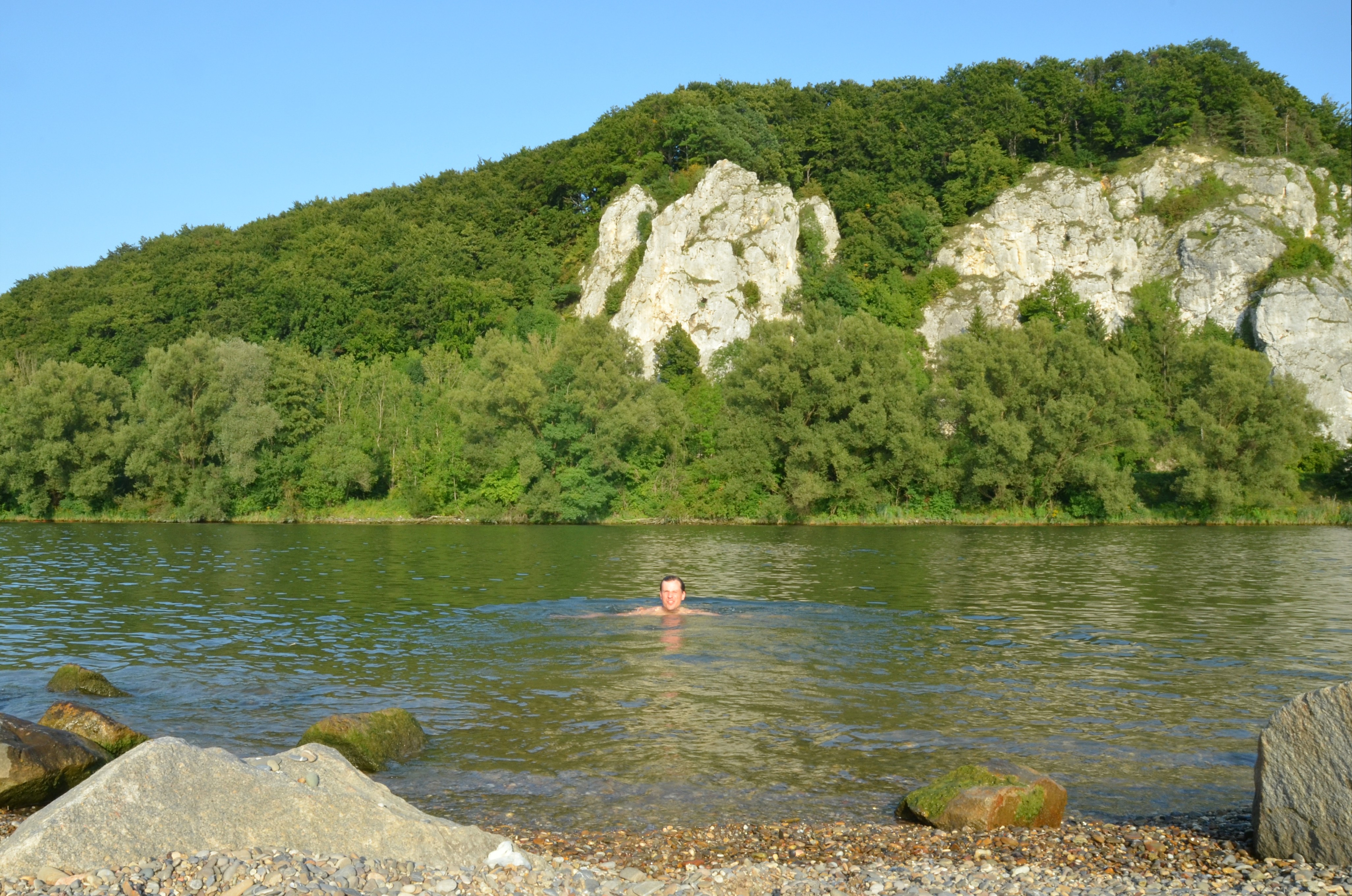 Meeting people
I also finally ran into ("cycled into"?) other long distance cyclists: Yesterday, I bumped into a guy in his 40s doing his first multi-day ride. The poor man had taken his competition mountain bike as is, including a rock-hard plastic saddle that is killing his bud since day one. We cycled together for a few hours, had lunch in the pitoresque centre of Straubing (sorry, no pictures taken) and continued further down the river. Unfortunately, his trip is already over tomorrow.
Later that afternoon, we met Claire and Dawn fully geared up for a long trip on their awesomly blue Surly bikes (sooo jealous! 😉). The two women come from the UK and are heading to Azerbaijan and then flying to Southeast Asia to cycle there. They are "Pedalling for Promise" and, through their trip, collect donations to build a shool for children in need. We basically cycled the same route so far (Brussels, Bonn, Darmstadt, Nuremberg…) and it would of course be awesome to share parts of the road ahead as well!
So, what's next?
In the next days I will roll down the Danube to Vienna and spend a few days with Volker and Annemarie. This is particularly cool since my brother and I did this exact trip almost 20 years ago to visit the two. It will be a great déjà vu to arrive at their exact same house again to sit down in the flowery garden for a piece of Sachertorte!
After Vienna I continue down the river to make sure to be in Budapest no later then September 8 to reunite with Anna and spend a long weekend together. By then I'll probably have seen enough river and turn south in the direction of Belgrade. I very much hope to meet Jona in Istanbul again in order to cross Turkey, Iran and Pakistan together. This is, if he hasn't fallen in love with some beautiful Austrian mountain girl.