On Wednesday, 30 August 2017, I arrived in Vienna. So far, I have cycled 1,449 kilometres since Jonathon's and my departure in Brussels and that is about half way to Istanbul. I have spent 13 nights in my tent and five with family or on invitation by strangers. And I've been almost two days faster than in 1998.
As some of you know, this isn't the first time I ride my bike to Vienna. Almost to the day 19 years ago, in the summer of 1998, my brother Nils and I packed our bikes and cycled the almost 1,000 kilometres from Frankfurt to the capital of the former Austro-Hungarian Empire  — one of our first adventures together! As I do now, we visited our granduncle and aunt, and had lots of sore muscles on the way.
Equipment-wise we were okay in 1998: We had bought comfortable long-distance leather sattles and had gotten waterproof Ortlieb paniers (the same ones I am still using today). Only our tent was of rather basic quality, which is why we slept in youth hostels more often than not. Thinking back to those times, and how much of an adventure this easy ride through Austria seemed to us, makes me smile today.
The above photo shows the two of us (16 and 19 years old) entering the city at a point impossible to find back. I tried to take a photo at a similar Wien sign post but they don't seem to exist anymore — at least not when entering Wien by bicycle. So I tried to take another picture as proof that I'm really here: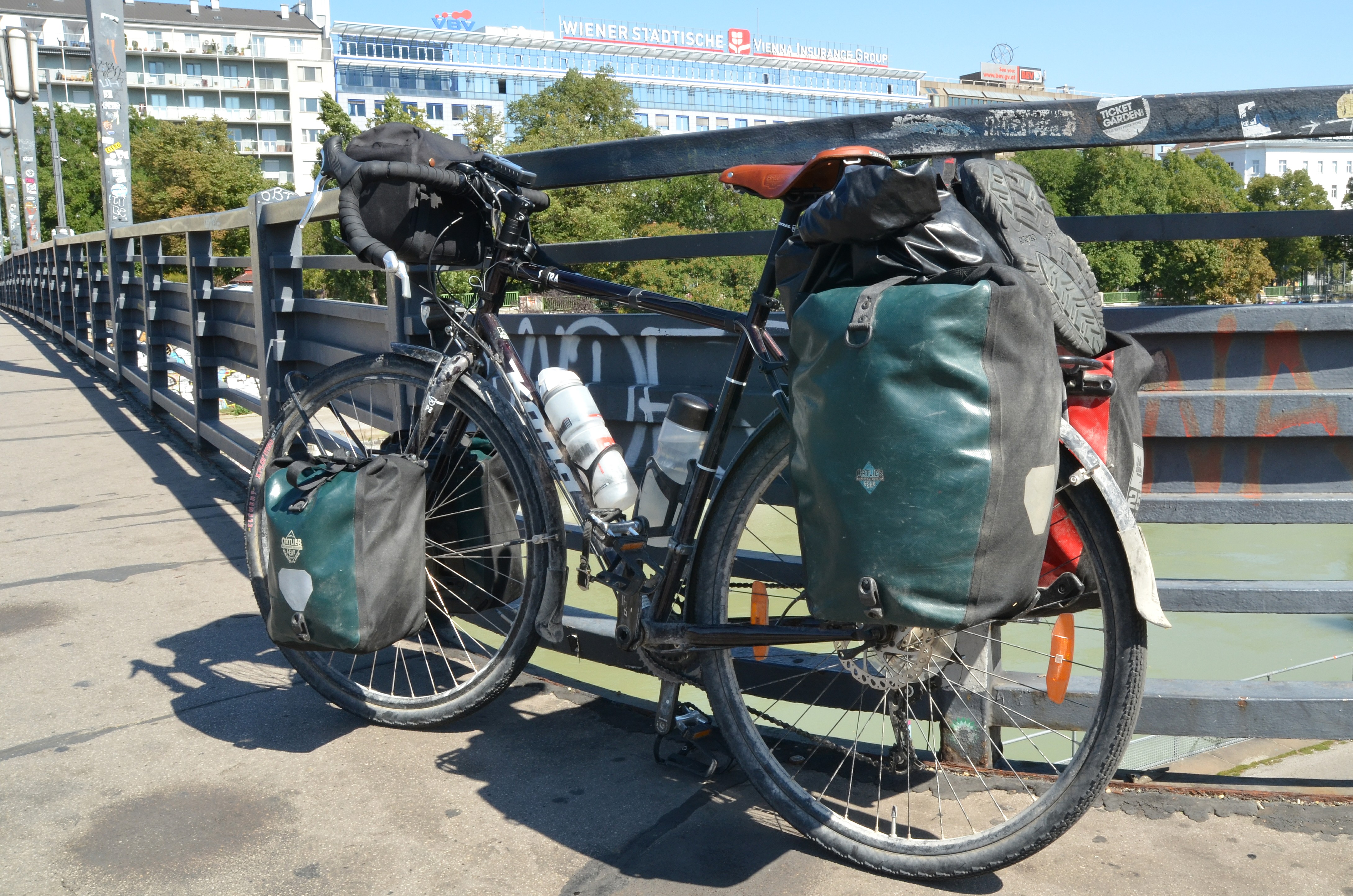 What's new
What has changed since 1998? Well, I think it's mostly me. I've probably become wiser and more courageous. Age also has it that I hardly recognised any part of the way, the towns or the landmarks. The cycling lanes along the Danube were already exceptionally good back then, I think. The cycling is easy and as a German, the common culture, language and currency make me feel at home. I feel more foreign when I leave Brussels to enter Flanders than I do while free camping in Austria.
What has changed though is that I don't believe having seen so many seasoned cyclists in 1998. Not surprising, one might think, after all the Danube cycling path is one of the most popular (and easiest) long-distance tracks in Europe. Almost 600 kilometres of asphalted lanes with sign posts so frequent that carrying a map is totally unnecessary.
The pedelec revolution
But there is something more: Pedelecs. I believe that the reason why all those grandmas and pas start picking up their bikes to enjoy a few days of cycling along the river is because with pedelecs they dare. Thanks to the supporting electric motor there's no need to fear small accents anymore. No need to be worried about being too slow or too tired. Many towns and villages along the way now offer free recharging stations for e-bikes, inviting cyclo-tourists to stop by and have lunch there.
In 2015 around 1.7 million e-bikes were sold in Europe alone. With steep growth rates to come, this development will most likely continue. And while in the beginning I was very critical of e-bikes by principle (less sporty, use of energy, etc.) I now see their specific value. People who would never have used a bicycle before leave their cars at home and go green instead. Every e-cyclist is one car driver less. And of course every car driver less decreases the chance of me being overrun by one.
The only thing I don't understand is this: According to a study undertaken by e-bike-finder.com, the average price of a pedelec in 2016 was about €3,287. That's more than three times the price of any decent normal city bike. That really only makes sense economically if the brand new pedelec replaces an old car altogether.
Fingers crossed.  
P.S.: I plan to set up a photo gallery on this website. This will allow me to post more (also text-unrelated) pictures. Bear with me, it will take time.