This will be a long post given that I have not written anything since my (re-)departure on April 13. So here's the TL;DR for impatient readers.
I have cycled over 1,200 km from Turkey to Georgia to Azerbaijan.
In Tbilisi I have joined Frances, my new cycling mate and used the occasion to have a drink with Lasha, an old buddy from Bruges times.
We have set off to Azerbaijan on April 21 and been chased by a bunch of Azerbajiani killer dogs.
On a rainy day we've been very kindly invited to sleep at an Azerbaijani family's home.
In Baku we watched the city falling into chaos while a dozen overpowered Formula 1 cars race through the inner city.
Leaving Turkey for good
I was filled with excitement when I arrived at Erzurum airport in the evening of April 13. At exactly the same place almost five months ago, I had decided to stop cycling and fly back home to be with my fiancée. It was an awesome feeling to be back for a second attempt but, while cycling into town from the airport, I immediately remembered why I had stopped here in the winter of 2017.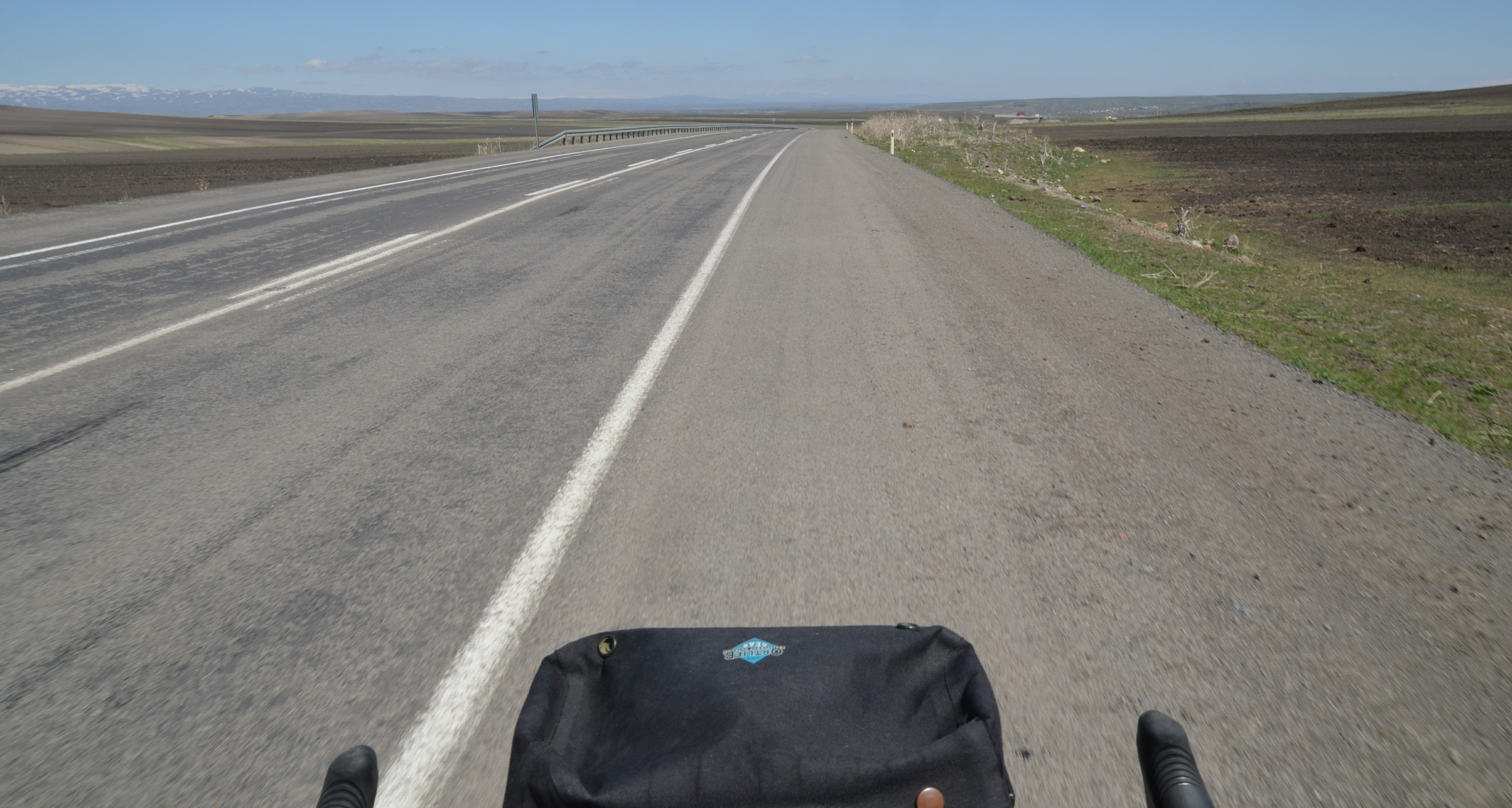 The landscapes around Erzurum are stark and empty but at least now the hills were covered in lush green grass rather than just brown earth. With temperatures around 15°C villagers are back outside and it is again easy to get in touch with locals. Instead of cycling east towards Iran, however, I was now heading north to reach Georgia where Frances, my new cycling buddy, was waiting for me.
In order to get to Georgia, I had to cross the mountains known as Lesser Caucasus. I don't think "lesser" refers to their altitude though as the accents struck me hard. After almost five months of Belgian winter with little sports and lots of office work I feel as weak as on day 1 last year. Except that now there was no warm-up phase. After some downriver cycling out of Erzurum the road threw a 2,200m high mountain plateau with strong headwinds at me. And the first of four punctures in my back tyre so far.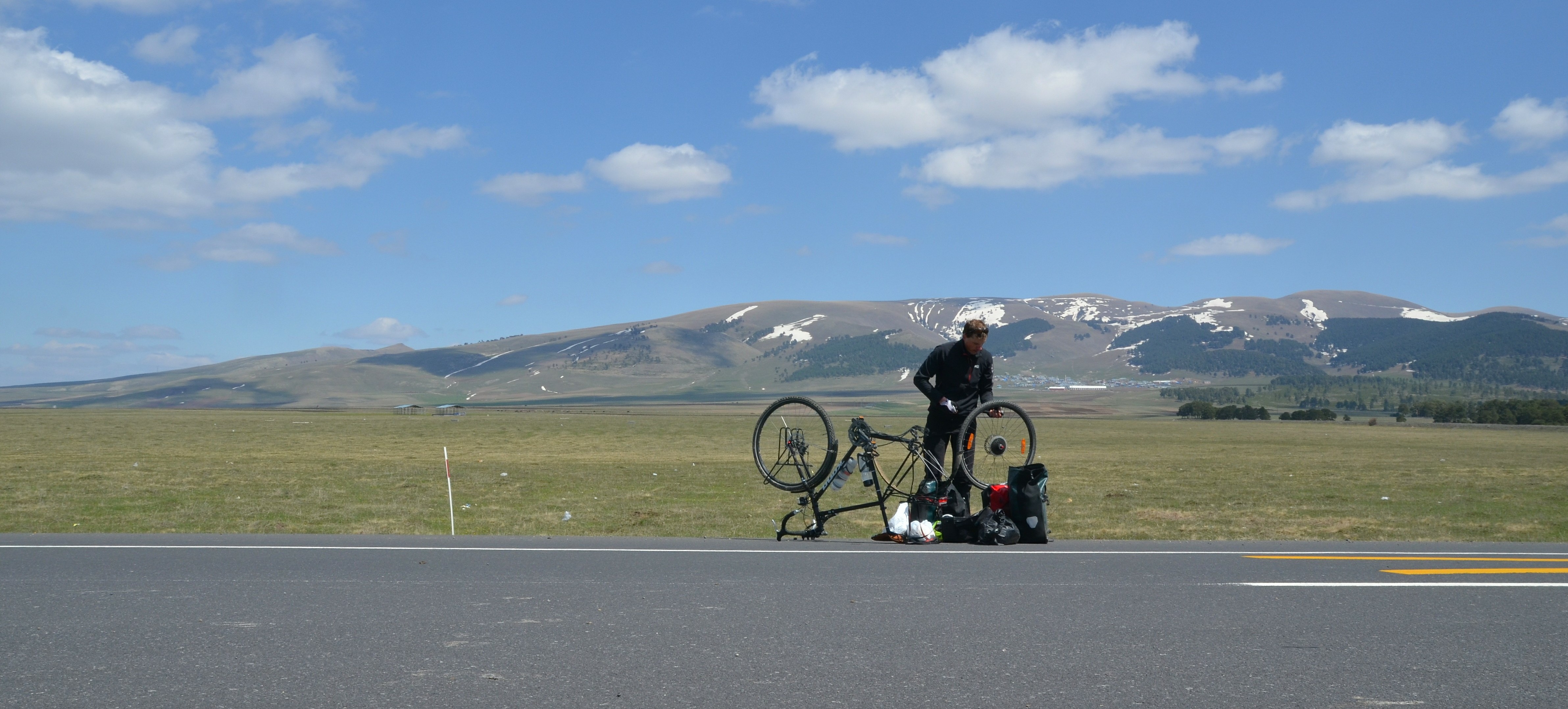 I battled my way forward, aiming to keep my promise to Frances to be in Tbilisi by April 19. The road led me through the ancient town of Kars which had been recommended to me but I found rather uneventful. The next morning, just outside town, I was lucky to stumble upon a fellow cycling tourer from Hungary with whom I shared the road for a day. Our paths split at the large fresh water lake of Çıldır, where she wanted to stay on the main road of the northern shore while I was keen to cycle the shorter and less busy gravel road on the lake's south side. I was longing for some remote camping and this is exactly what I got!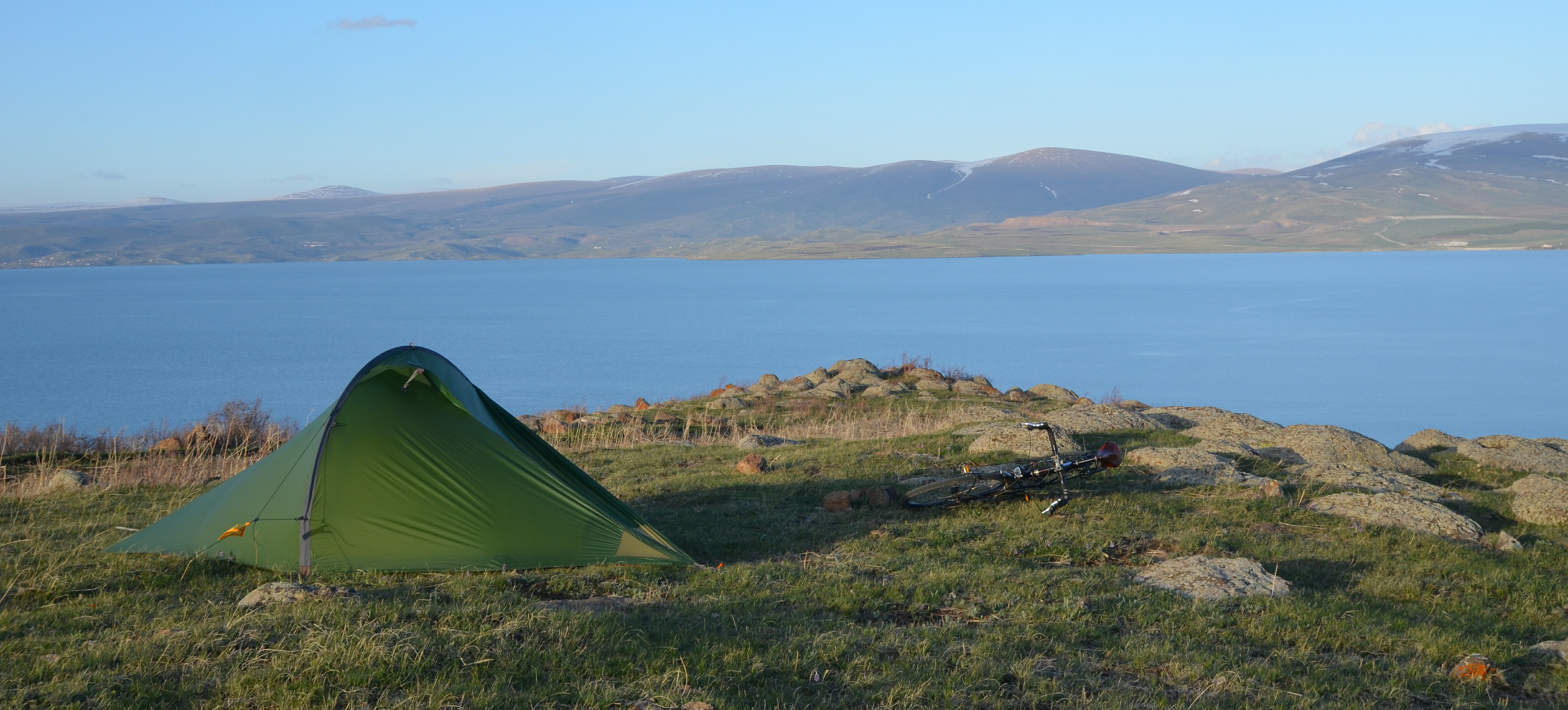 The remaining 40km to the Georgian border on the next day had another 2,200m high pass in stock for me. After lots of sweat and tears I eventually arrived at the top where I met two French cyclists on a tandem going the same way. They sat down with some Turkish truck drivers drinking tea so I only stopped briefly to say Hi and share the latest road info before heading on down to the border post.
Discovering Georgia for real
Georgia was a surprise to me on several levels. I entered the country from the south, a region which is inhabited by an ethnic Armenian minority with little representation in Georgian state affairs. I was struck by its low degree of economic development. I was told many of them don't even speak Georgian and thus can hardly take part in public life. The contrast to the relative wealth of Turkey was strong: Villages often consist of not much more than a couple of ground level clay huts without warm water.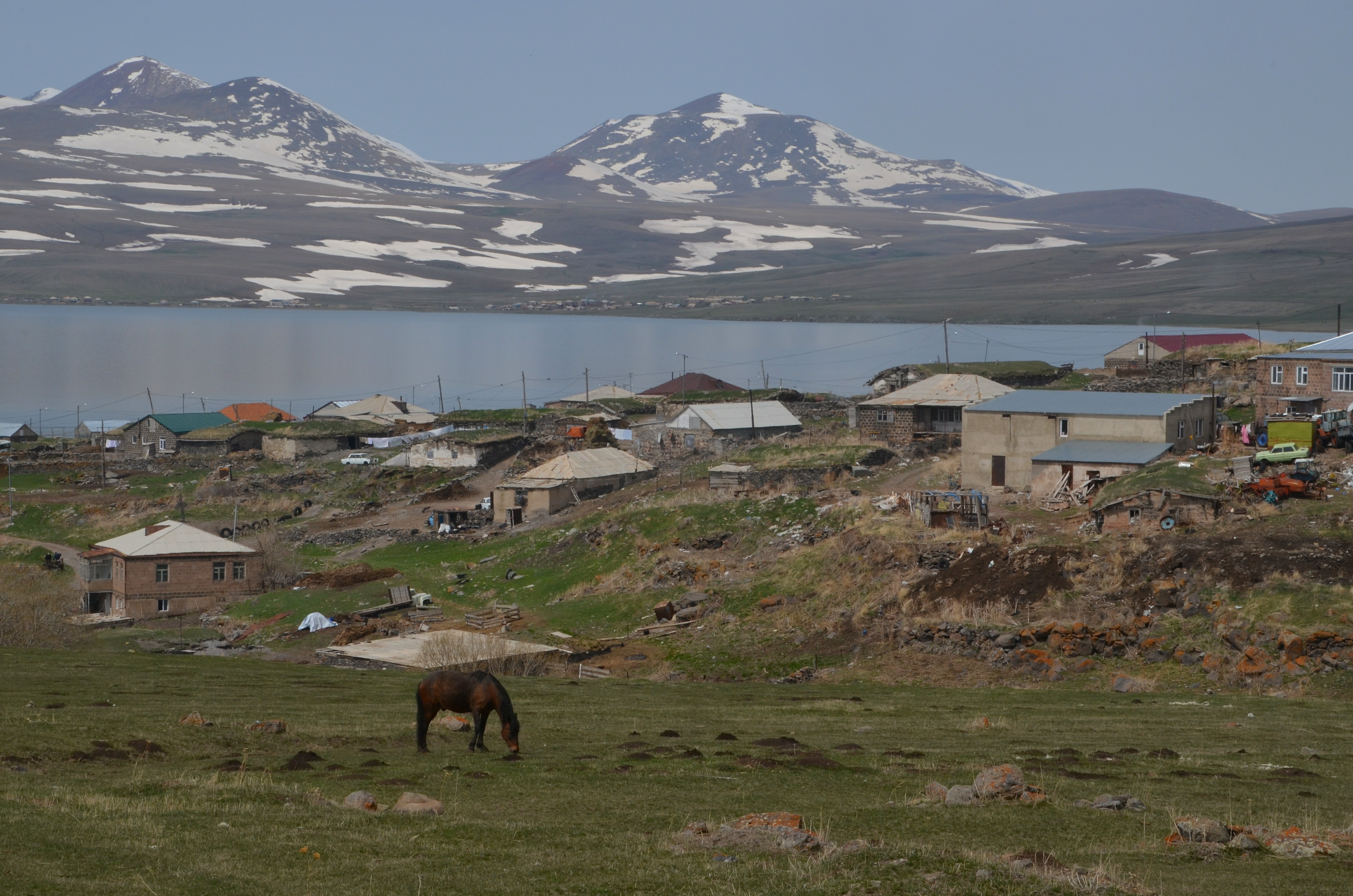 I had some previous (though theoretical) knowledge of the country which was partly the topic of my second masters thesis at the College of Europe almost 10 years ago. But the only thing that really matched my expectations was the capital Tbilisi. A pleasantly sized international place with surprisingly little Soviet-era charm and instead some well renovated or rebuilt old buildings which could have also been set in Paris or London. On the hills above the city towers the huge new presidential palace, a stylistic crossover of the White House and the German Reichstag.
The palace can probably be seen as a manifestation of Georgia's Western aspirations. Since the so-called Revolution of Roses of 2003 the country has tried binding itself closer to the West with a dedication often surpassing that of Western countries. Every government building in Tbilisi flies an EU flag although there is no chance the country will be joining the European Union anytime soon. (The government apparently argues that, technically, the blue banners with golden stars are not the flag of the EU but that of the Council of Europe, of which Georgia is a member.)
Likewise, the streets of Tbilisi are decorated with NATO flags (of which Georgia isn't a member either). All this becomes very understandable considering that Russia still occupies a big chunk of Georgia's erritory since the military conflict between the two in 2008. It's widely viewed that the (now more or less frozen) conflict around Georgia's breakaway regions of Abkhazia and South Ossetia has also been an attempt by Russia to prevent Georgia to join NATO in the first place. That worked well.
But enough politics! I quite enjoyed Tbilisi despite the horrific traffic along the shores of its river. The old town is cute and just touristy enough to not be overwhelming. I would have liked to stay a bit longer but Frances had already been here for a few days and, understandably, was keen to cycle on. We left Tbilisi on April 21 on a smaller road planning to reach Azerbaijan via the smaller and less busy border crossing in the east. The sortie of the city was horrifying but after some 90km the road became smaller and led us through lush fields of fertile greenery into Azerbaijan.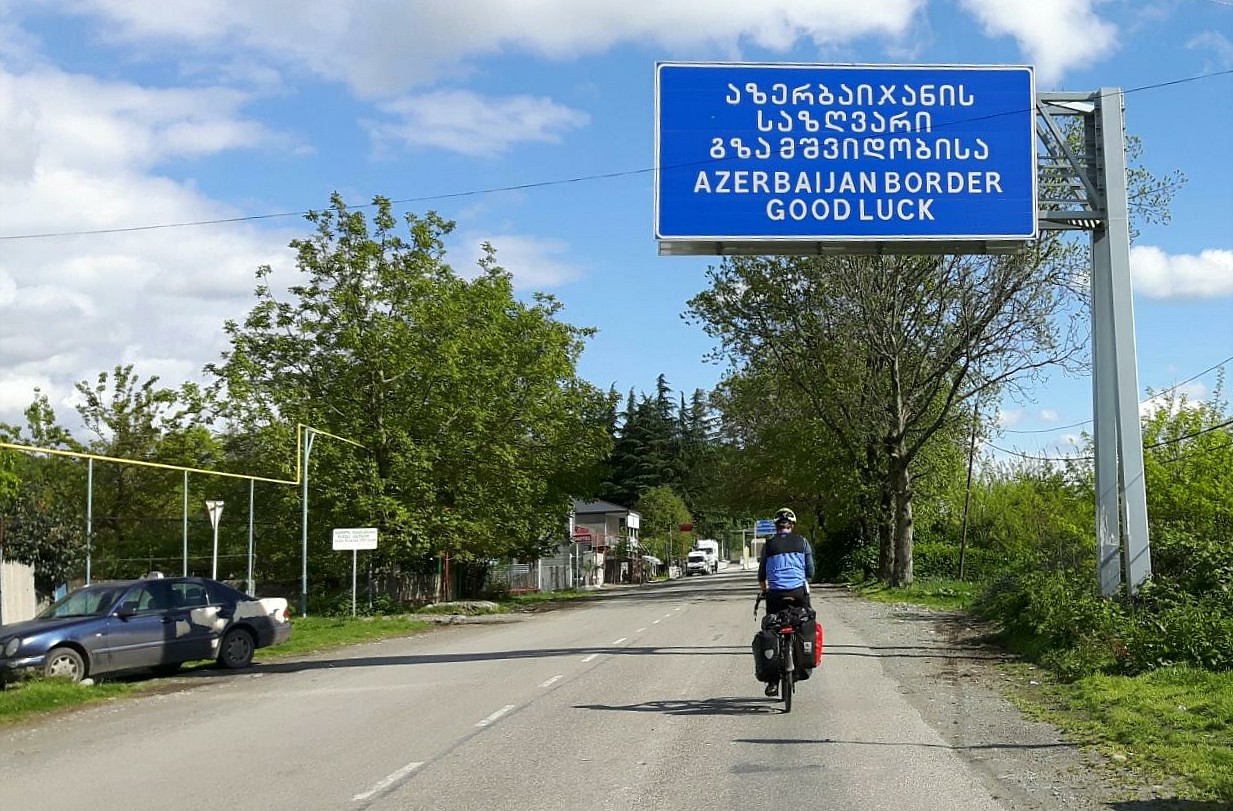 Azerbaijan, land full of surprises
We had chosen a smaller mountain road to Baku rather than the shorter highway (something I learned from Jona last year). I had not spent much thought on Azerbaijan and done almost no research. Not knowing what to expect we crossed into the country on a Tuesday and I was immediately captivated. Like in Turkey, people cheered and greeted us from their cars. Some even stopped and wanted to take photos with us. At the least people would smile and nod as we rolled by. Not that I need that kind of esteems attention but having your presence acknowledged can make you feel much more welcome in a foreign place.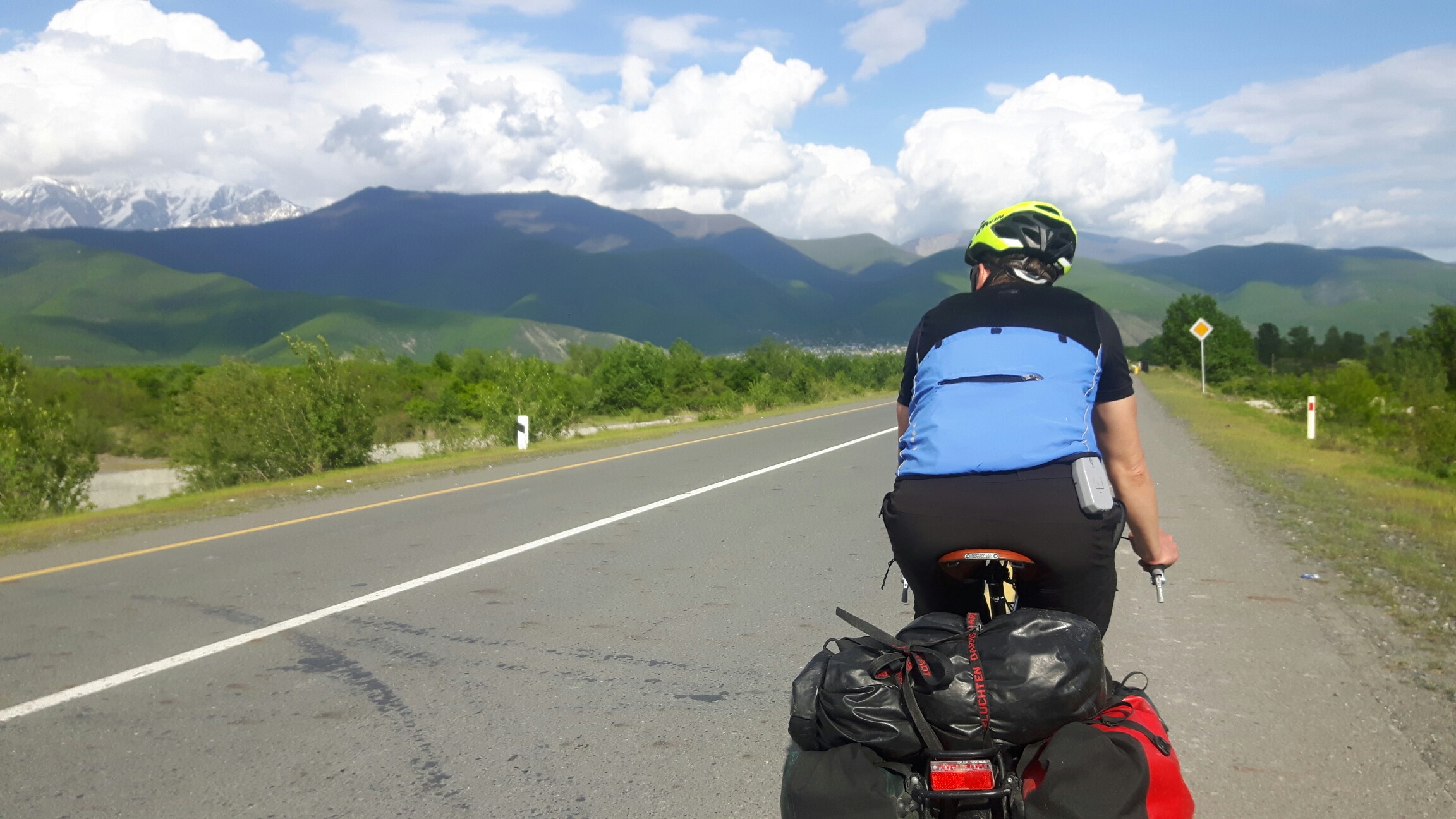 The road was mostly good and led us along the stunningly beautiful mountain chain which constitutes the border with Russia. On constant ups and downs we rolled through villages, passing street sellers offering everything from pickled veggies and freshly baked bread to dry flowers and living bunnies. Like in Georgia the bread in Azerbaijan is fantastic, the other items were less useful to us though.
Of course, Azerbaijan also has dogs. Dogs that love to chase cyclists. I have become quite good at using the ultrasound dogwhistle device Anna had brought me in Istanbul to keep the most dangerous ones away (note the little grey device at my belt above). But the dogs in Azerbaijan just topped it all. A whole pack of vicious creatures chased us for hundreds of meters until at the end Frances had almost offered to empty one of her front paniers to take one of them with us.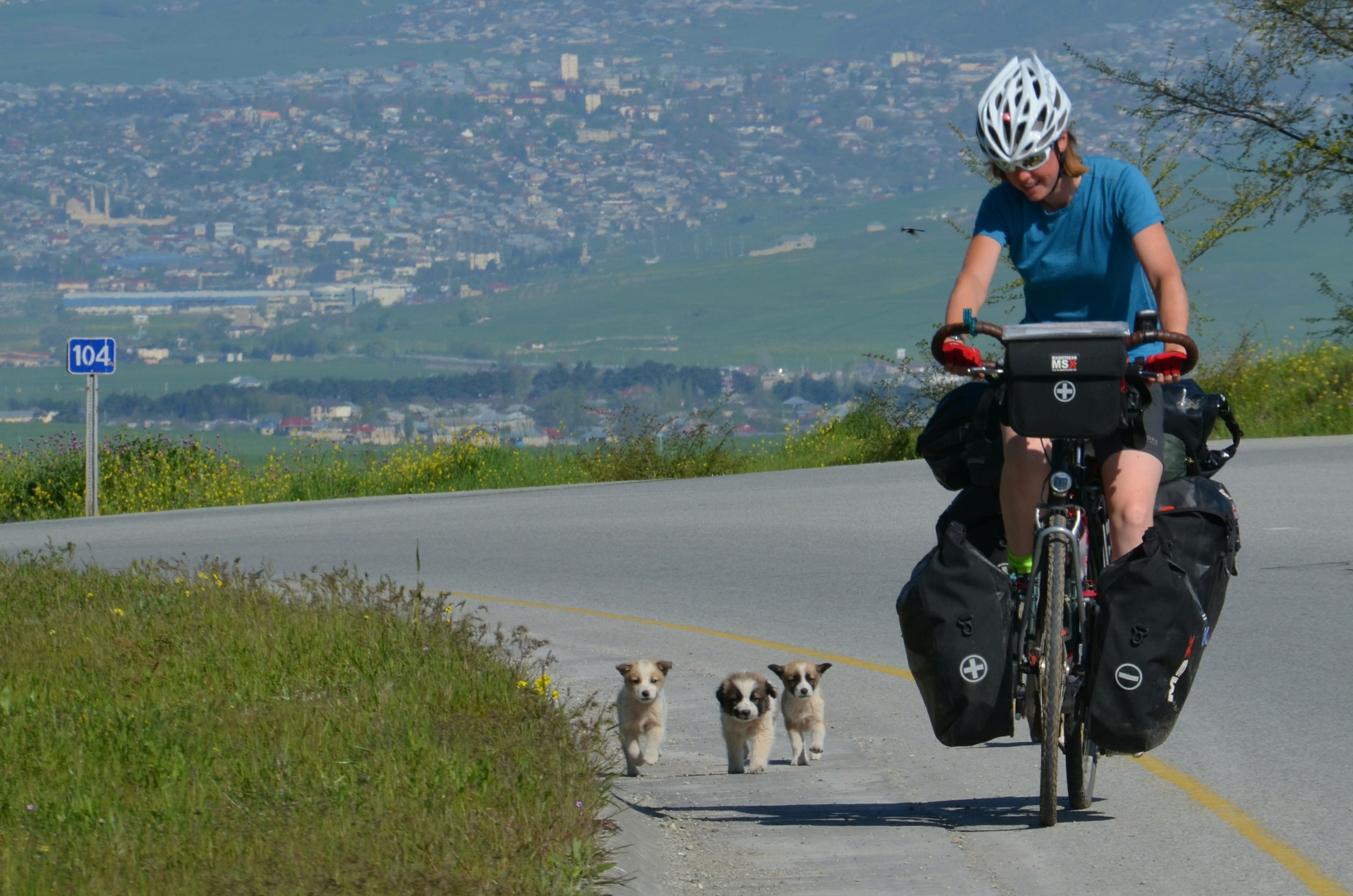 One of the other evenings we had troubles finding a good camping spot. The road was dotted with villages and in between only fields. If we could get behind a village, we thought, we could be closer to the mountains and potentially hide in the forest there. Gesagt, getan.
While crossing the village though, we were of course seen by half a dozen villagers who followed us excitedly.  A group of teenage girls eventually pointed us to a large grass area behind the village where we could camp. During the day, the area was used by the village's herders for their cattle but in the night it was all ours. Or so we thought. Our diner was accompanied by a constant stream of curious visitors who wanted to chat. A bunch of young guys, an old chap on a horse, some kids, the village teacher. They all came to see us, none of them spoke English. It was of course nice but also somewhat tiring.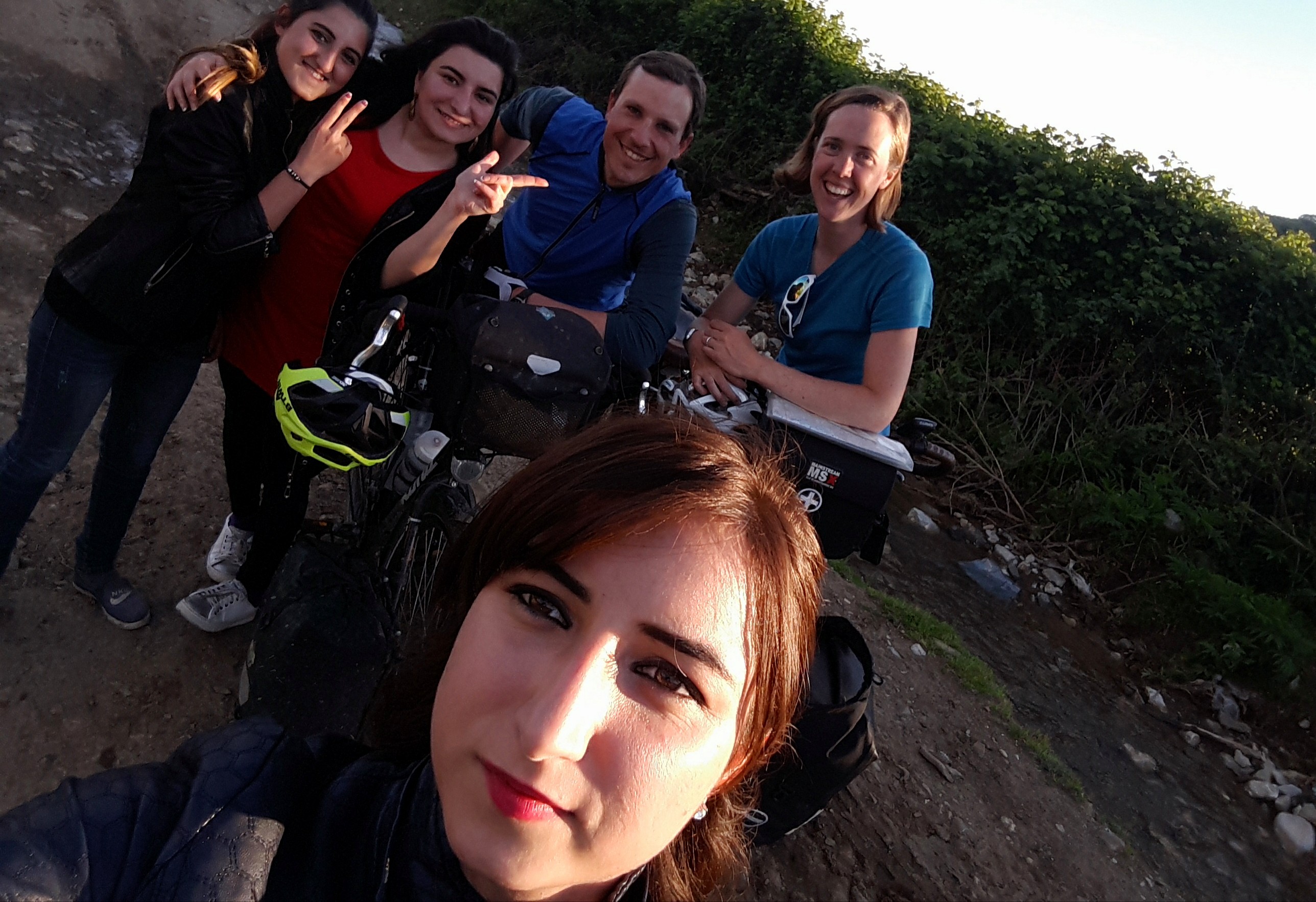 As soon as the darkness of the night had fallen upon us and we had disappeared in our tents, however, we wished those visitors would come back. Along with the well-known ubiquitous barking of all kinds of dogs around us, a high-pitched blood-stirring hauling started echoing from the forest behind our tents. It sounded as if suddenly dozens of carnivorous beasts would decend into the valley to butcher poor campers in the their sleep.
We were slightly worried and tried to figure out what was going on. "The girls led us here and they all came to talk, so it must be safe", Frances said. We agreed that the hauling wasn't wolves but it took a moment until I remembered my friend Lasha mentioned there might be jackals living out here. We agreed it must be jackals and continued to exchange some best guesses as to what jackals usually eat for diner before descending into this sort of light sleep which is soaked into adrenalin.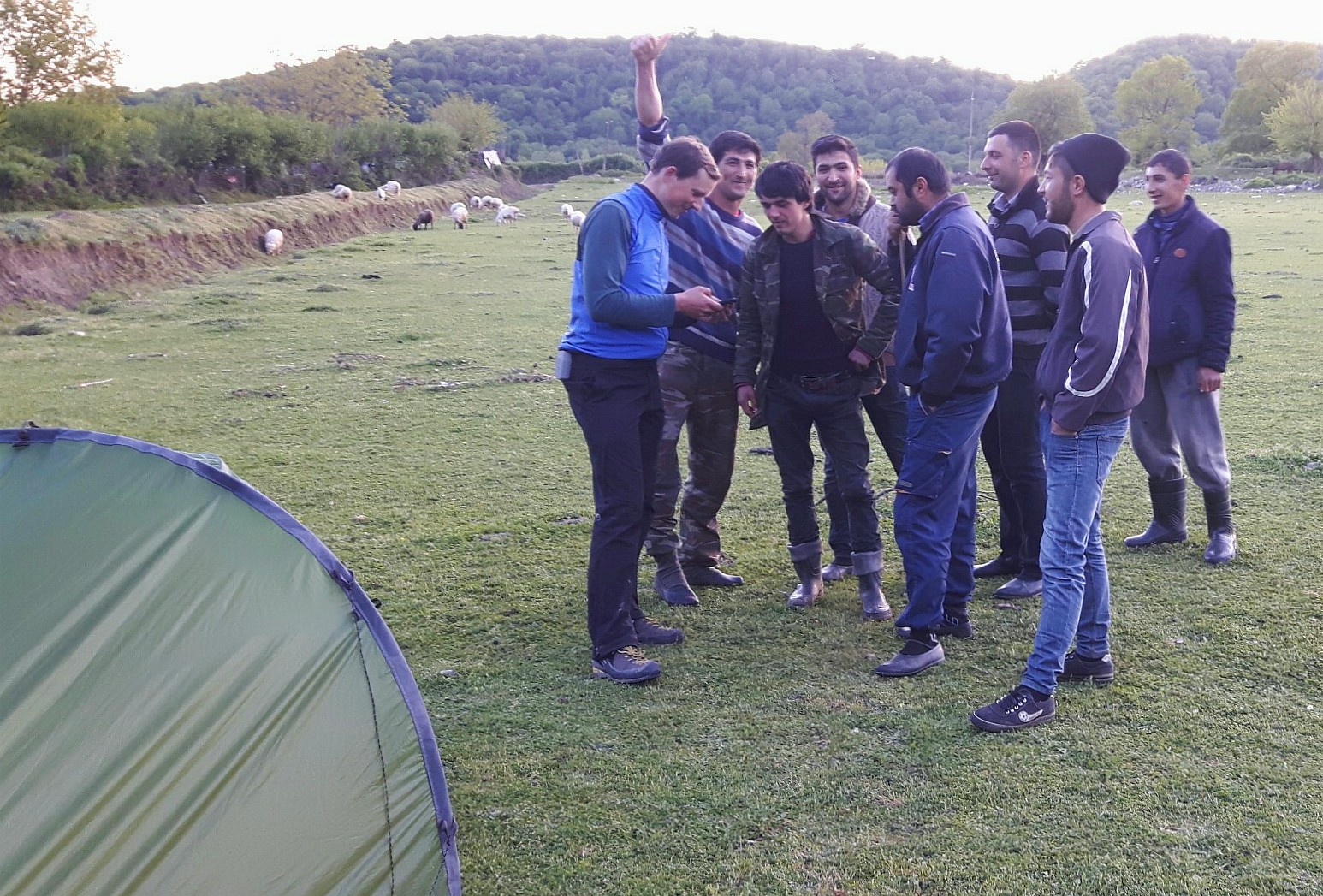 And because we do not learn, Frances and I tried to camp in a village again two nights later. It was a reasonably good spot betweeen a wall and an abandoned building. Quite invisible — but not enough. We were just about to start cooking, rain outside, tents already up, when two guys our age appeared and insisted it was too cold to camp. We should come to their place. As we both quite enjoy camping in the rain we politely refused and they left.
Only to come back 10 minutes later joined by their mom who kept on patting Frances' cheeks saying she was our mom wanting to take care of us. After some sign language we agreed that it would be good to at least eat our half-ready pasta before going anywhere. They left. Which is when a neighbour appeared, also insisting we should sleep at his place. Again we kindly refused, pointing at our almost ready diner. He nodded and disappeared only to come back shortly after carrying bread and some kind of freshly cooked cream sauce which tasted a lot like the "Sauerampfersuppe" (sorrel soup) my mom used to make so well!
We were humbled, grateful and yet worried since we now had to surely choose one invitation over another. We didn't want to create hard feelings among neighbours! When the first two guys (turns out they're brothers) reappeared we finally ceded but also asked them to please let the other neighbour know and thank him for his kindness and the awesome food he had provided us with. We hope that worked.
We packed our stuff in the dark and followed Tural and his brother back to their house where we were warmly welcomed and fed by their family. While Frances was set up to play with Turan's little daughter (who was excited to read her a whole book in Azerbaijani), Turan introduced me to his thoughts on atheism via Richard Dawkin's YouTube channel. It was surreal to us and yet so wonderful. We felt, again, honoured by the awesome hospitality that random strangers extend to us on this travel and we are grateful for the experience and help they provided us with.
Baku is different
Entering Baku by bicycle is not pleasant. Despite us arriving via a smaller road we had to pedal over 15km through the rusty belt of the city, sharing 12-lane highways with cars and trucks, pedestrians and animals before getting anywhere near the center.

But as in many large cities, the closer we got the more wealth was on display. The bling modern architecture, the expensive shops and (I promised it in the beginning of this blog post) the whole circus around Forumla 1, that's currently in town, have nothing in common with the simple farming lives of average rural Azerbaijanis. It is neverrtyheless a fascinating world on its own. Baku features surprisingly little Soviet-era architecture. Instead it seems to has mostly been replaced by either modern glas and steel or newly built neo-renaissance townhouses which would rather be expected to be found in Paris or Vienna. All this creates a weired atmosphere of chic and beauty.
Add to this thousands of foreigners who have flooded the city to watch overpowered Formula 1 cars race through the city center at breathtaking speeds and noise levels and you easily forget where you are. Since the F1 circuit can of course not be crossed directly, the city is riddled with dozens of gangways across and under the road to at least make movements on foot possible. At some of the spots in town you can even have a good view without official F1 entry ticket.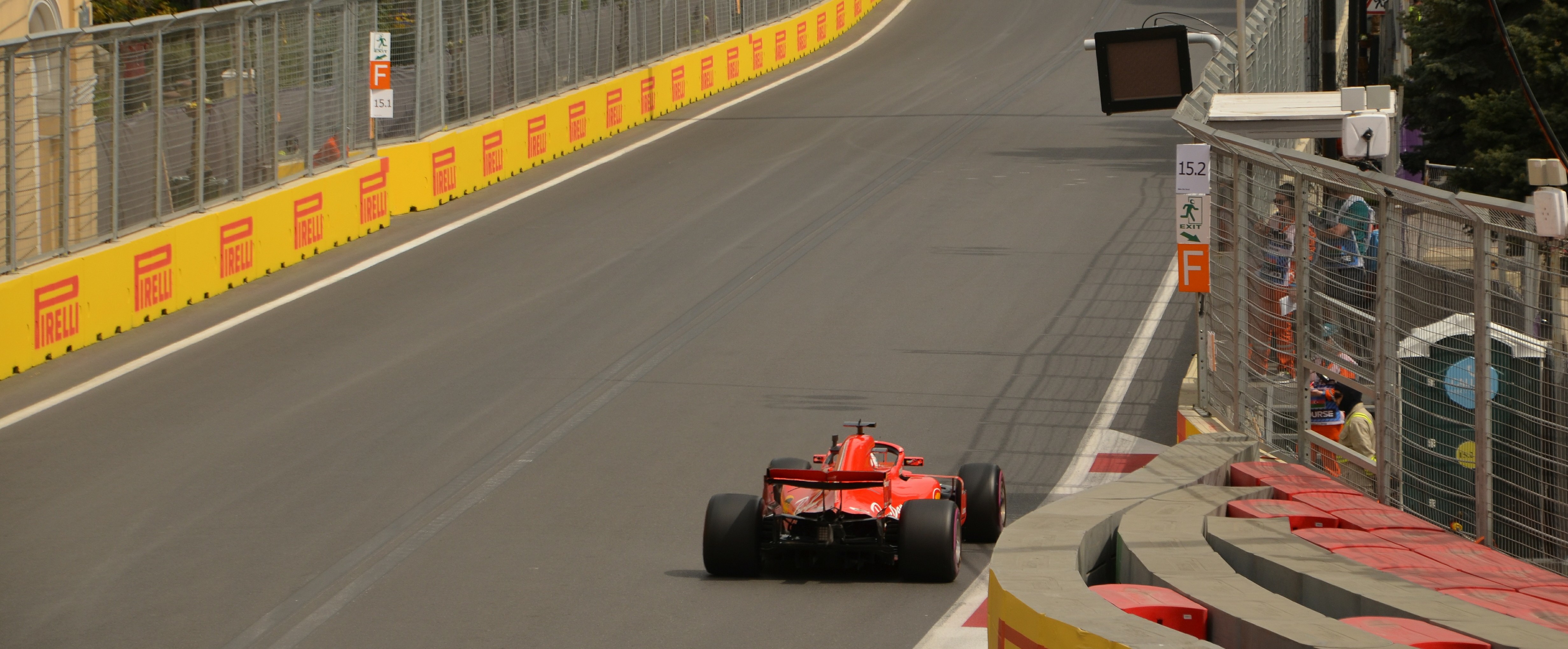 What's next?
Frances and I are currently waiting for our visas to Uzbekistan. Once they are ready, we will attempt to bord a ferry that will carry us and our beloved bikes across the Caspian Sea to the Kazakh port town of Aqtau. Officially the ferry takes 30 hours but a Korean cyclist we met a few days ago said he spent four days on the boat due to stormy weather. Those who know me understand why this makes me slightly nervous.
We are prepared with Frances' ukulele (which she has carried all the way from London), a newly purchused Soviet-era travel chess game and a firm hope for a quick ferry ride. Stay tuned! 🚴💨