When we left Baku on Wednesday (2 May) to reach the ferry port of Alat, we knew there might be complications. Only we didn't believe it would hit us so hard. Alat is a small, rather forgettable town some 70km south of Baku. Outside town lies Baku's International Trade Port from which leave the only passenger ships to Kazakhstan. That's where we were heading.
Caravanistan.com, one of the most authoritative sources of information on travelling Central Asia, informed us about the legendary unreliability of the ferry connection across the the Caspian Sea: There are horror stories of travellers camping in the ports for days before spending a week or so on the ferry waiting for it to cross. Before leaving Baku, Frances and I therefore rode to the port authority downtown trying to figure out when the next ferry would leave Alat.
The port authority is hard to find but a bunch of energetic young women on their racing bikes kindly helped us finding it (big thank you!). There we met Susi and Thomas, a German couple in their old camper van "Günther", in search of the same information. We learned that we had just missed a ferry this same afternoon but that, "maybe", there would be another one on Thursday.
Leaving Baku
We were excited and decided to cycle down the ugly, boring and busy motorway to Alat to be there in time for the Thursday morning ferry. Big mistake, one might argue. Although on arrival, port employees told us there might indeed be a ferry the next day, they also refused to sell us tickets. We remained hopeful and put up our tents on the tarmac close to the ticket office and right next to the border and customs posts. During the evening we had visits from everyone: border control agents, police, port employees, everyone wanted to come over and talk. No one really seemed to know when the next ferry arrives.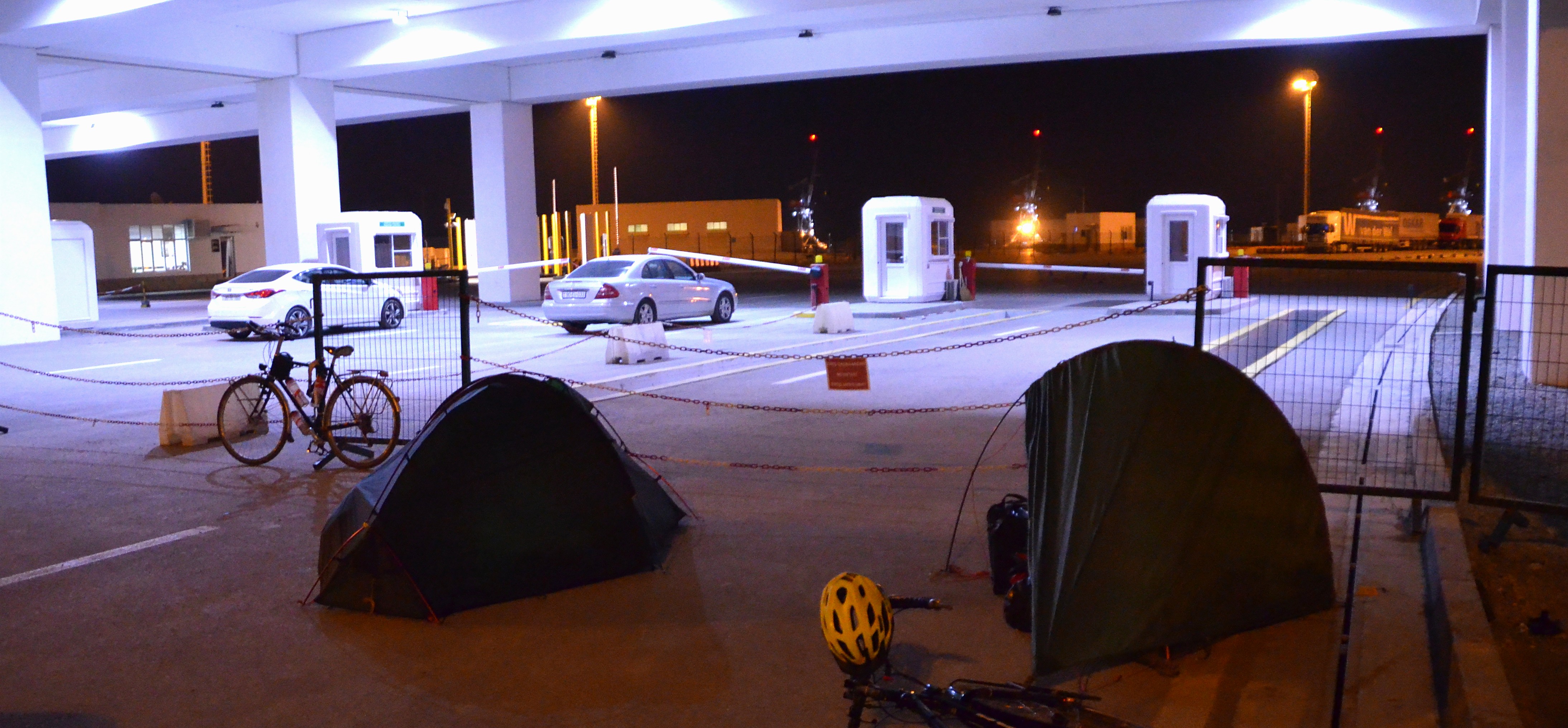 Thanks to the excellent Georgian wine offered by Susi and Thomas, we slept surprisingly well. The next morning, however, port employees told us there wouldn't be any ferry today. When? "Maybe tomorrow", they said. We made ourselves comfortable, started playing games and cooked together (our friends are so much better equipped than us: camping chairs and table, endless food and water supply, electricity, etc.).
In the afternoon, our small camp was joined by a Dutch couple and their huge offroad Land Rover as well as a Dutch solo motorcyclist. But no ferry. The updates we received were highly contradictory. Depending on who we asked, a ferry would arrive "tonight", "in the morning" or "in the coming days", and every estimate was accompanied by "maybe". We even spoke to the port's deputy director, whose own guess on when a ferry would arrive was immediately put in question by his own employee.
Discussing alternatives
Frances and I started weighing backup plans. We hadn't expected to lose so much time here. We already spent five days in Baku waiting for the visa to Uzbekistan and were keen on getting back on the road. Should we try to get a flight across the Caspian? Every night around mid-night there is a direct flight from Baku airport to Aktau airport, operated by a logo-less local airline we had never heard of. We would need to get back to Baku, ask around in bike shops for cargo boxes to package our bicycles and take a (large enough) taxi to the airport. With no idea if they even accept bicycles on those planes.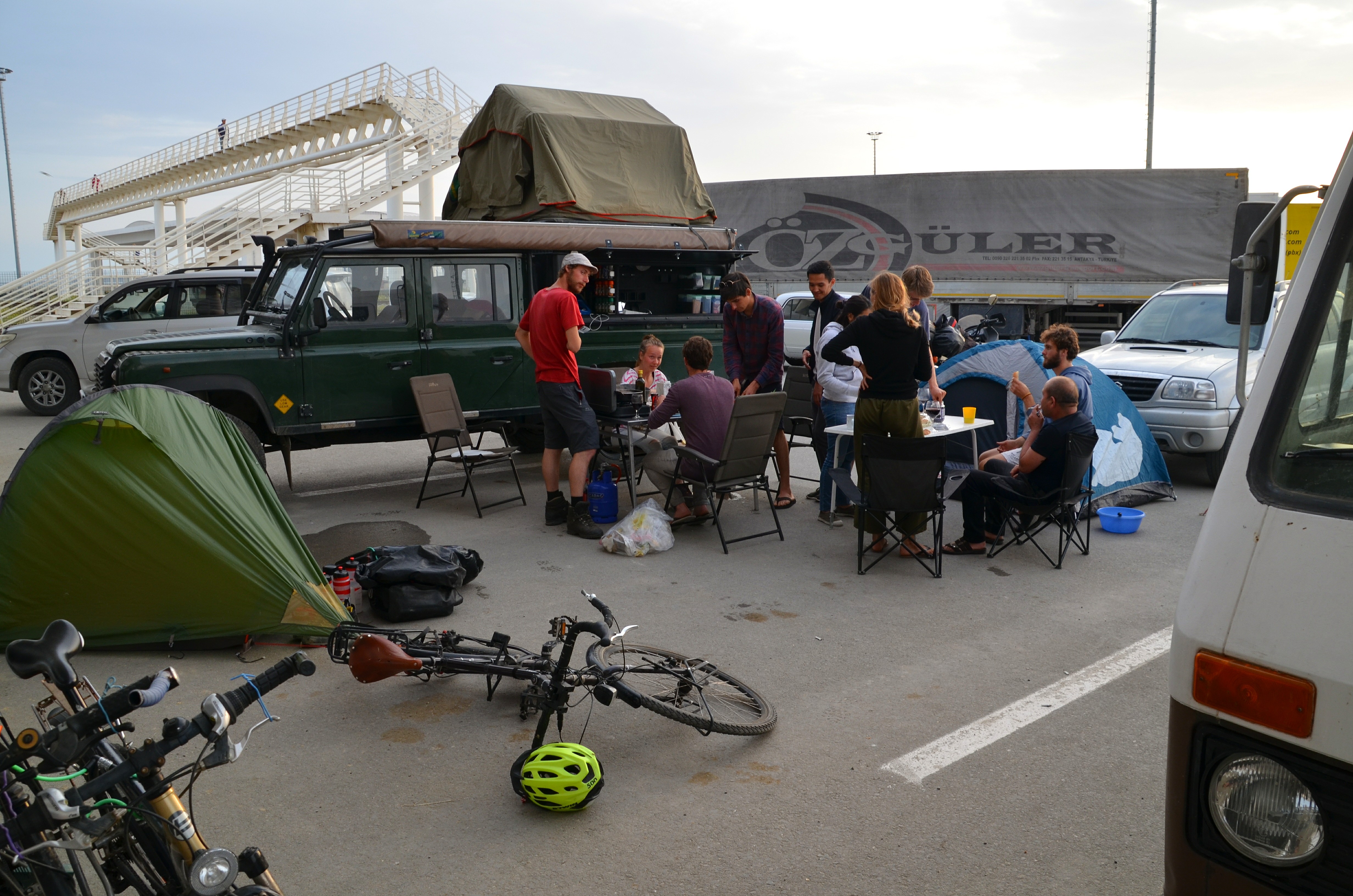 We decided to stay and wait for the ferry. Our camp crowd here is fun, although we really don't sleep well because of the noise, truck traffic and construction works in the port all night. In the meantime, the camp has swollen to 12 people including a young engineer from Kazakhstan and an Uzbek trader in his fifties desperate to get back to his wife and seven kids.
We are surrounded by several dozen trucks from Azerbaijan and Georgia but also Turkey, Kazakhstan, Turkmenistan, Uzbekistan and even Ukraine, but don't really mingle with the drivers. Most of them look quite grim to me. The port people, customs officers and police are very friendly though. The port hosts an ATM, a small shop for food and almost unbearably dirty container toilets and showers. So it's reasonably comfy but I am still longing for a quite night of camping out in nature.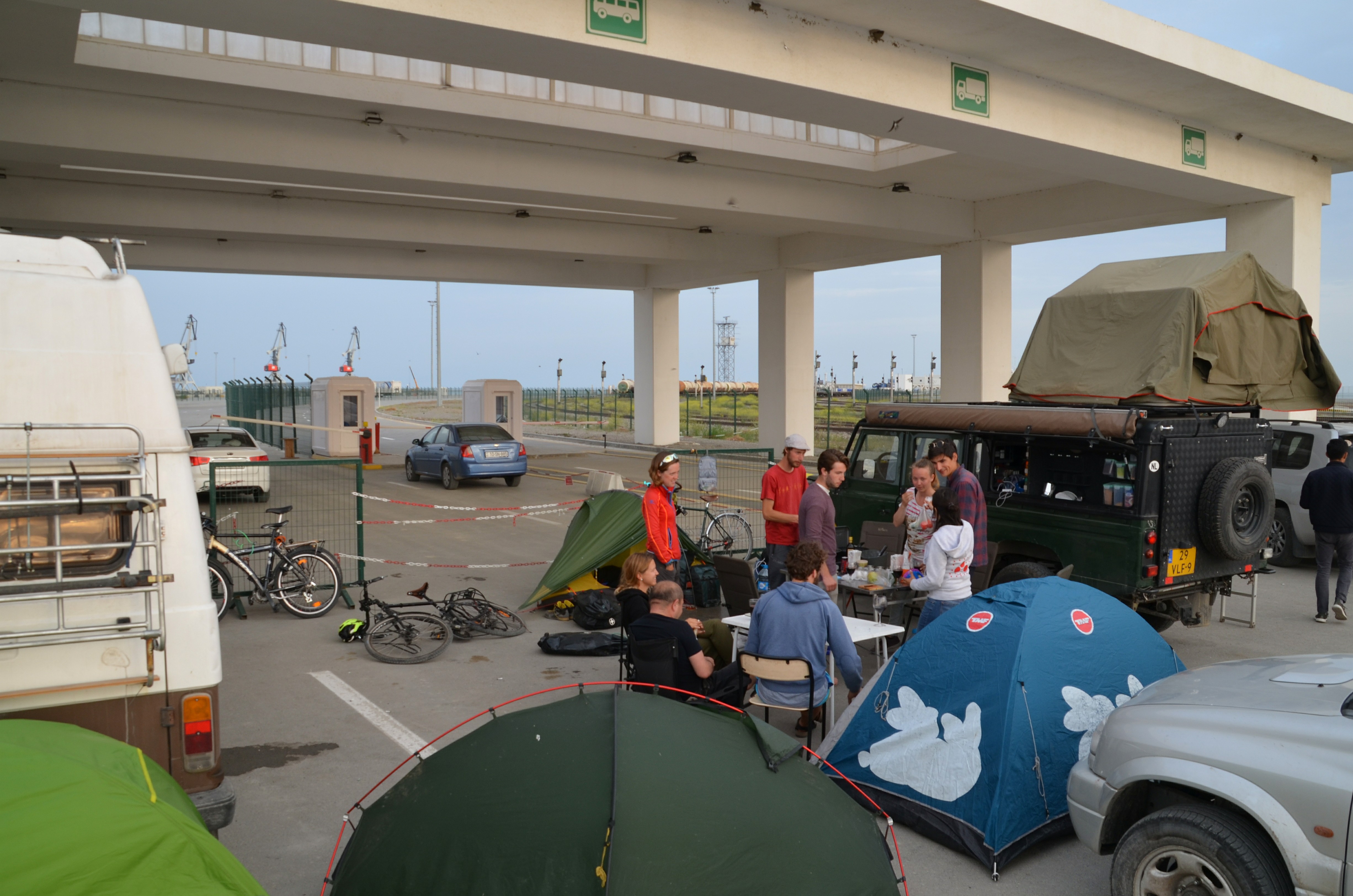 Today is Saturday, 5 May. After three nights in the port we do have ferry tickets and this morning even got word that tonight there should be our ferry. The "maybe" has almost disappeared and we are hopeful. Although even if everything goes well, it still takes some 25 hours to cross the Caspian to Aktau.
The economics of waiting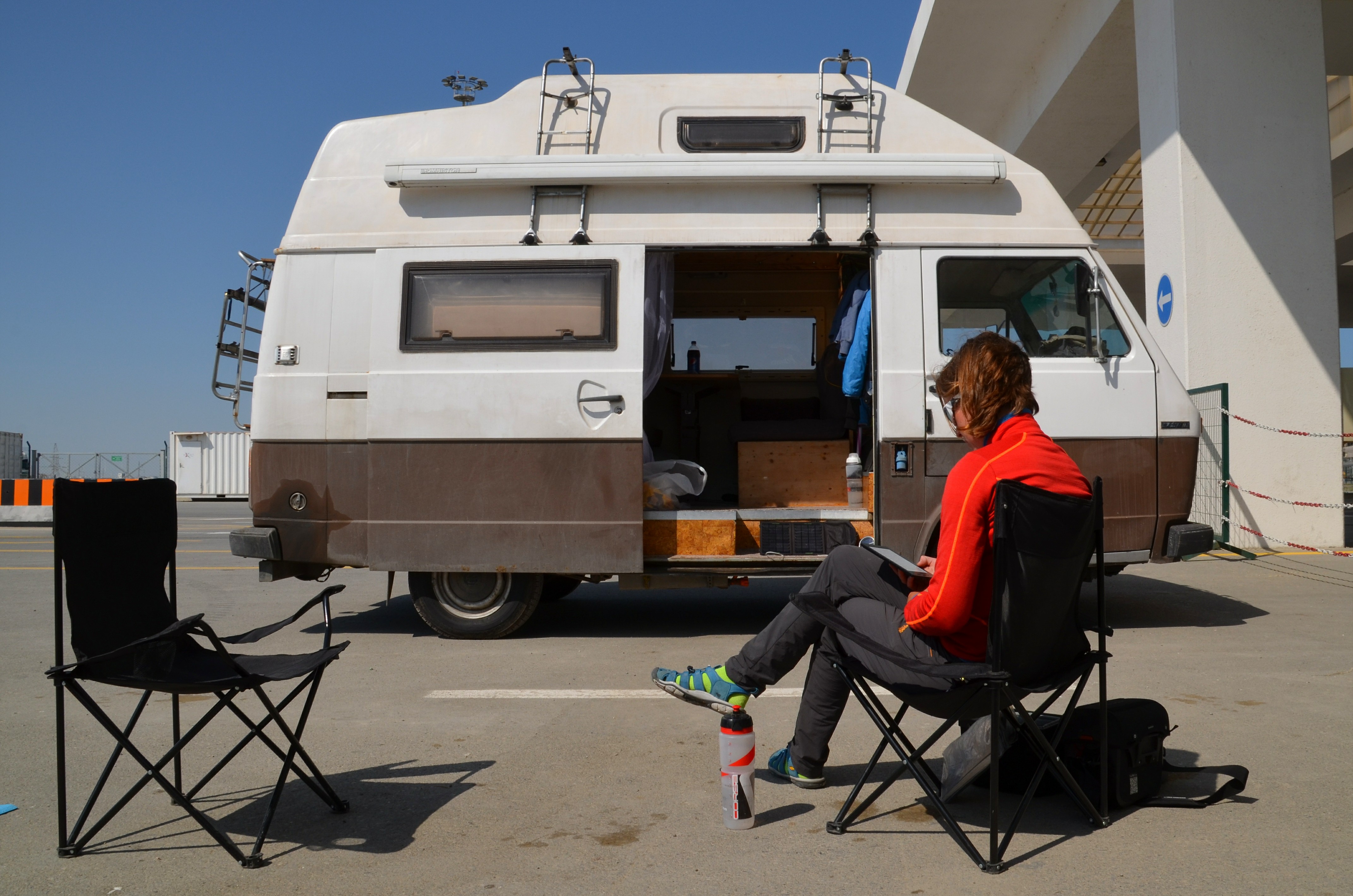 In our camp we have been trying to understand the economics of all this (we have a lot of time to talk of course). It seems very hard to comprehend. Why is none of the countries investing in a new ferry that is more reliable and whose time schedule is less vulnerable to bad weather? It's not like gas and petrolium-rich Azerbaijan and Kazakhstan had no money to spend. Also, if there are regularly dozens of truck drivers plus tourists waiting for days to get on a ferry, why is no one investing in a port hotel or at least a camping ground somewhere close by?
And why do all those trucks take the ferry in the first place? We were told each truck pays over 1,000 euros for the ferry, depending on the length and weight of the vehicle. Wouldn't it be cheaper (and perhaps even faster) to drive around the Caspian via Iran and Turkmenistan? Couldn't those countries make a fortune by selling transit visas and collecting motorway tolls from them? I can't help but thinking there's a big market failure at play. Should anyone have ideas about what goes wrong here, comments below are open!
If all works well, I will write my next blog post from Kazakhstan or even Uzbekistan. Until then, fingers crossed that this ferry arrives tonight. 🛳💨