With Frances' support I am currently working on my British understatement skills. Take this: We have spent the past week visiting a number of not too boring places, including the reasonably aged cities of Khiva, Bukhara and Samarkand. The three are quite well known internationally due to a few religious buildings covered in some bluish tiles. Not the worst places to see.
Khiva
No but seriously, the tiles are awesome! 🙂 Khiva, the first place we visited has very few of them though. The small town has an impressive old centre almost entirely built of clay and surrounded by a massive clay fortification which dates back to the 10th century, although most of the old walls have been destroyed and then rebuilt in the late 17th century. Until today the old town is host to hundreds of old buildings and monuments, including an unfinished (and obviously) blue-tiled minaret.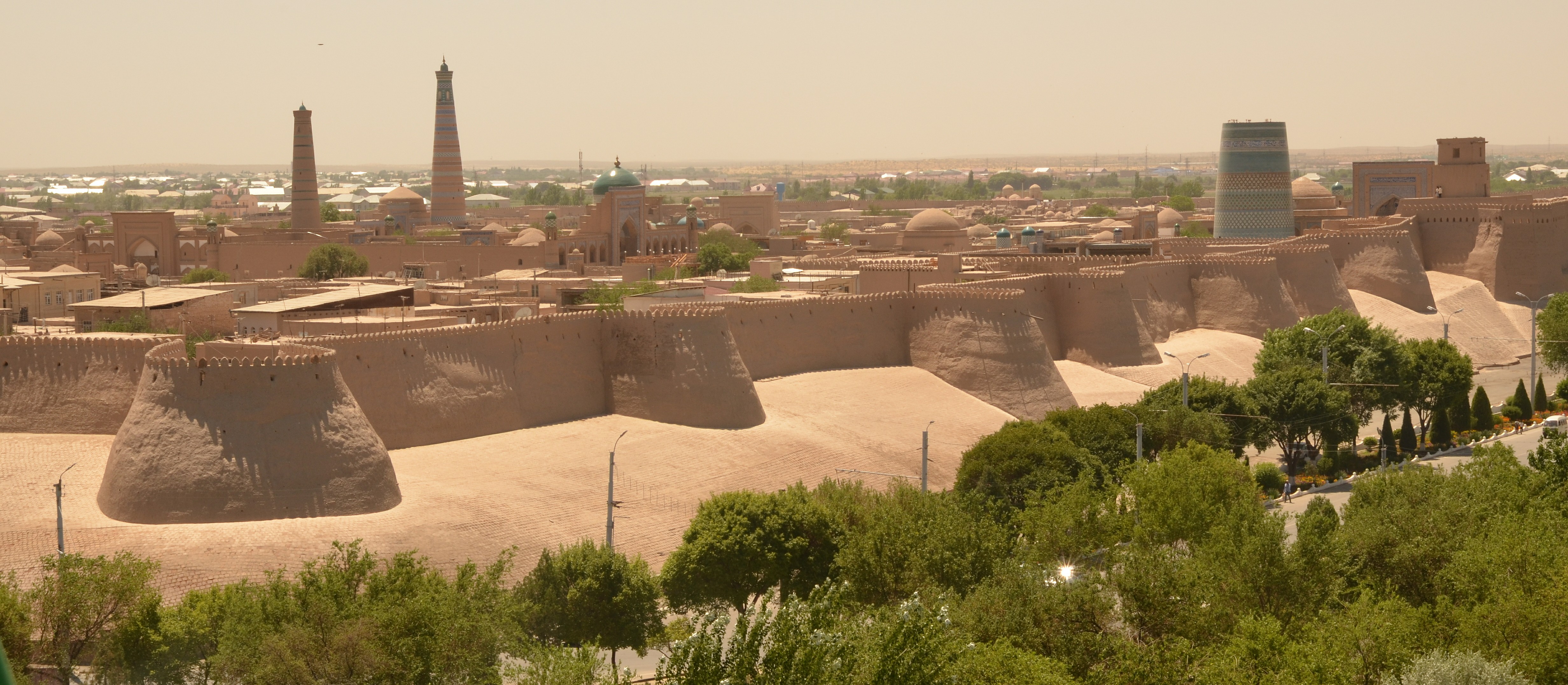 Khiva reminds one a bit of Bruges. It has the vibe of an open air museum and wandering its streets is particularly nice once the hordes of tourist choaches have left. After nightfall, the nicely lit-up buildings turn Khiva into a beautiful scene from 1001 Nights.
The two days in Khiva gave us some time for forward planning, which made us realise that both the ferry from Baku as well as the long ride through the desert has slowed us down enough to bring us into visa duration troubles. Tourist visas in Uzbekistan are issued for 30 days, extensions were excluded in the past and might or might not be possible today. Even the Uzbek foreign ministry was unable to provide us with reliable information on this. As mentioned earlier, maybe it's because regulatory changes happen so fast under the new Uzbek president.
Bukhara
In order to have enough time to see said bluish tiles, we decided to skip the additional stretch of sand desert between Khiva and Bukhara and take a shared taxi instead. With our beloved bicycles both strapped to the roof of an old Daewoo Nexia, our taxi drove the 7-hour ride in a breathtaking speed, flying across potholes and honking away slower vehicles without mercy. Of course no seatbelts.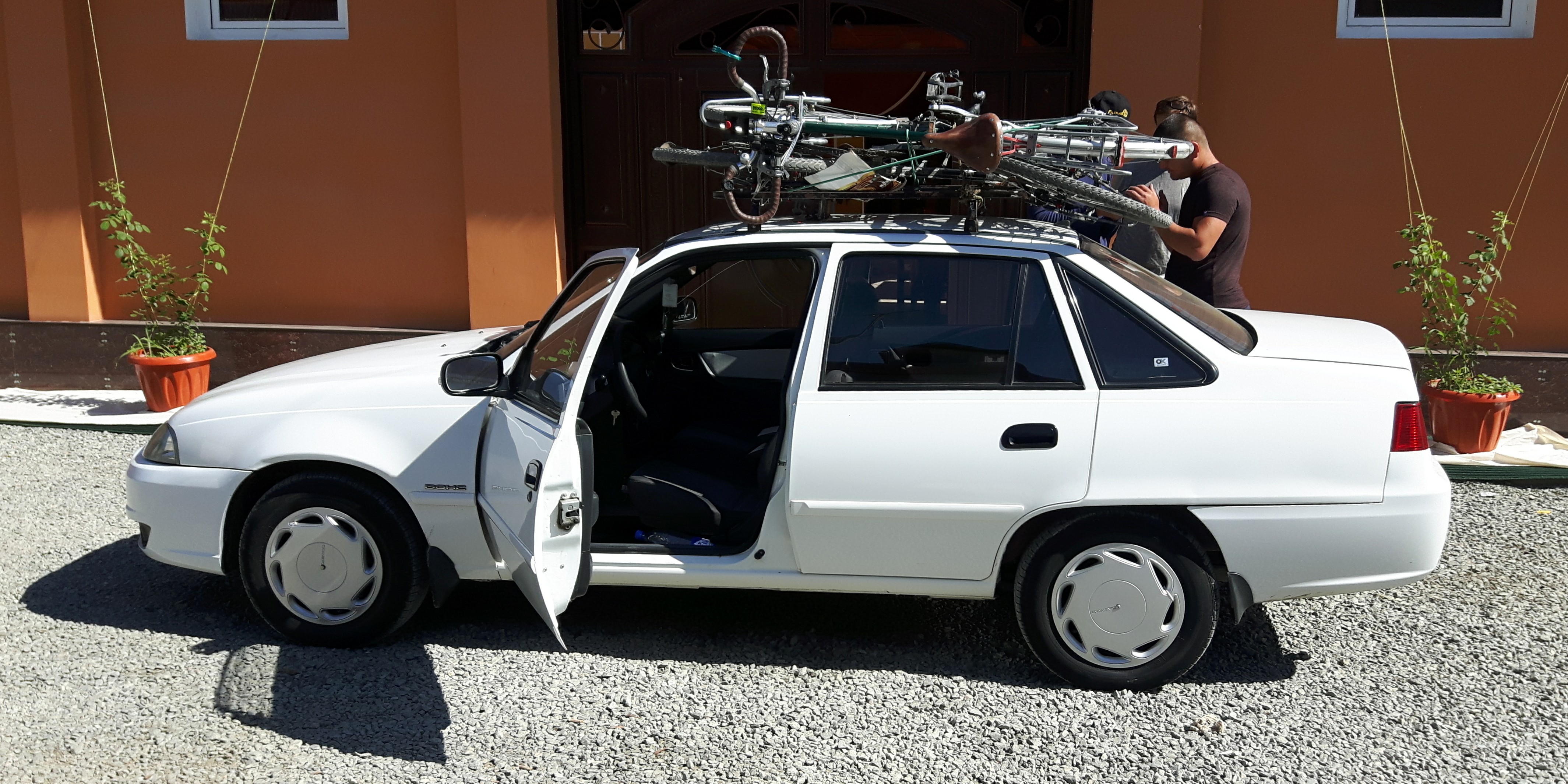 Bukhara is an ancient town on the Silk Road dating back some 2,500 years. It once served as the religious and cultural centre of Central Asia and up to today the religiousness of its population of 250,000 distinguishes Bukhara from others Uzbek cities.
The old city centre contains most of the famous mosques, madrases and palaces. This part is very touristy and even more so during our stay as Bukhara hosted a culture and music festival, turning the old town into a place of omnipresent dancing and animation groups. To us it wasn't always quite clear whether this festival was primarily targeting tourists or locals but some of the performances seemed indeed rather cheerful and even spontaneous.
The old centre is bordered by a more residential area with narrow streets cut through rows of slightly run-down one-storey houses. Tiny squares provide space for local markets and the general quietness of the area is only interrupted by the occasional (but unavoidable) barking dog. That's also where our hostel was located.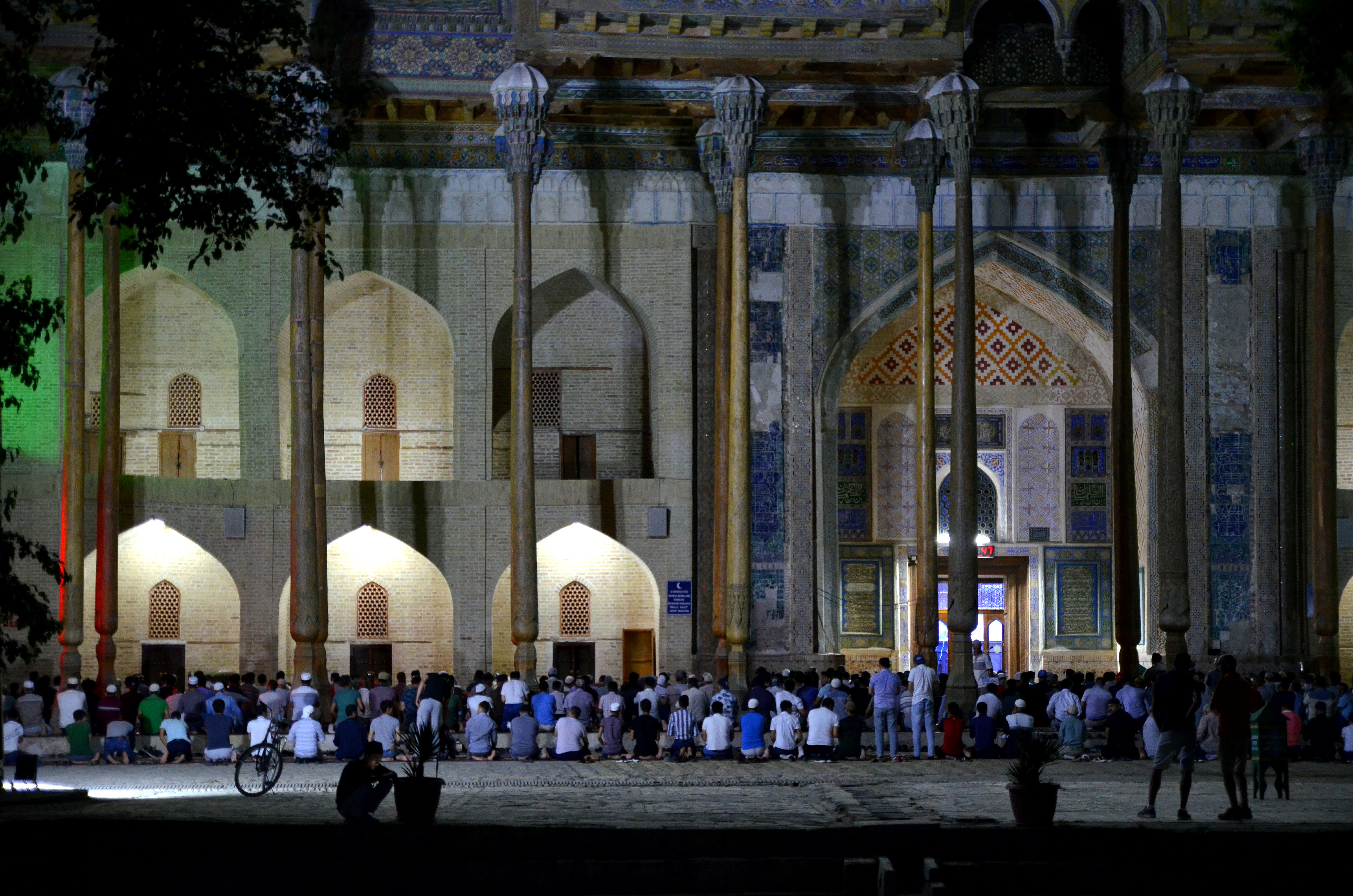 Even more than Nukus, Bukhara was hot. During the day, we barely wanted to leave our hostel's shady courtyard and the thermometer hit the 30°C until well after 8pm. After two interesting but for my taste rather too touristy days in Bukhara, we set off on 27 May at 7pm in the morning in the direction of Bukhara's eternal rival: Samarkand.
Stopping by the road
The road to Samarkand leads through lush green fields and an endless string of villages. We stopped for lunch at one of the typical mini supermarkets (or "magasin" as they are called in Uzbekistan) with limited supplies but often friendly people. This time we had troubles finding the eggs in that little shop and tried to ask if they had any. As all our attempts to use sign language to describe what we wanted failed, Frances took sign language to a whole new level by suddenly starting to simulate a hen, waving her elbows up and down and making clucking sounds. With all due respect to Frances' theatre skills, this didn't work either.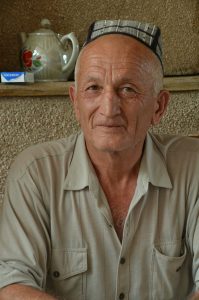 When we then eventually discovered the eggs below the veggie counter and pointed at them, everyone in the shop broke out in laughter and so did we. The situation was hilarious and we were invited for tea and sweets.
While we enjoyed the pleasant scenery and the friendly smiles and encouraging hellos everywhere, it was quite hard to find places to camp here. On the first evening after leaving Bukhara (and more than 150km in our legs thanks to a nice steady tailwind), we had to ask villagers for advice. Loyal readers of this blog will remember how camping in villages often ends, and this time was no different: Approached by locals, we were quickly found by Jabborova, the village's English teacher who (after some polite resistance from our side) managed to invite us to stay with her.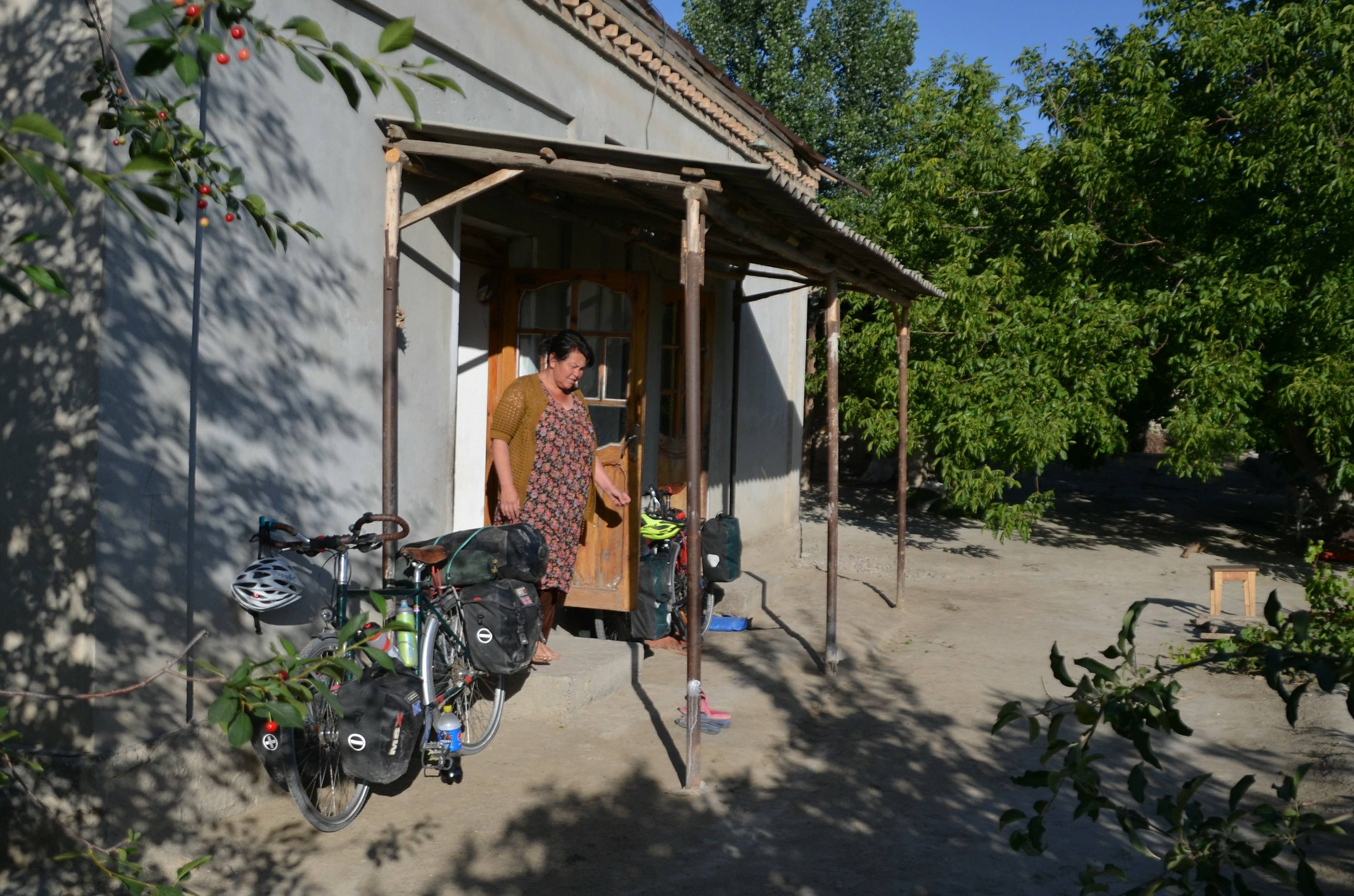 Her neighbours, an elderly couple with whom we had no language to communicate, seem to have been a bit jealous as we all went to their place first for diner. We still had our mouths full when Jabborova broke the news: her husbands brother's youngest child celebrated his first birthday that night and we had just been invited! The poor kid quickly went to bed after everyone arrived for the party but that didn't stop over 30 adults to eat and drink as if it was Christmas.
Despite Uzbekistan being a mostly Muslim country, we had not seen much display of religion outside of Bukhara so far. Villages have no mosques, women don't cover themselves and many don't even observe Ramadan. At this birthday party however, women and men celebrated in separate rooms, prayers were spoken and originally religious rituals respected. After saying goodbye to Frances, I was led into a large room with soft, colourful carpets laid out around more delicious food that can possibly be eaten even by the 12 men present.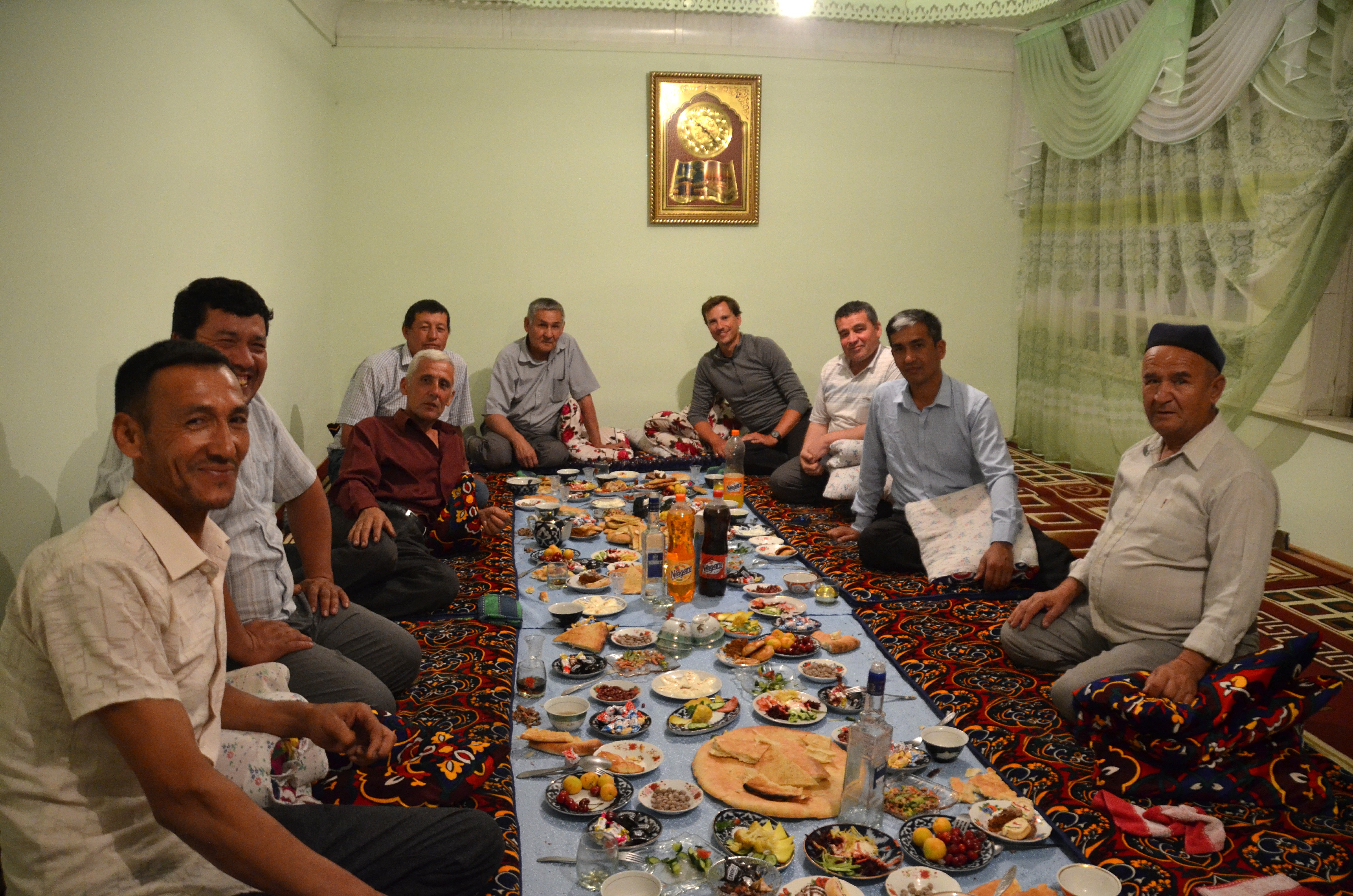 Despite the language barrier (only one other guest spoken English), everyone was very friendly and they patiently guided me through all the different Uzbek traditions and procedures of greeting, toasting and drinking vodka. The Eldest made fun of me because by the time I had emptied my bowl of soup he had eaten two. Later, as the youngest at the table, I was honoured to be invited to speak the first toast to the birthday boy. If you'd like to know what was going on in the women's room, read Frances' blog post.
After [redacted] rounds of vodka and immense amounts of food we finally said goodbye and drove back to directly fall asleep be taken to a second round of drinks at the neighbour's house, where a family member (or friend? I admit I'm not entirely sure how and if at all they were related) happened to also celebrated his birthday. It wasn't before midnight that we were led to the guestroom where two carefully prepared soft carpets had been rolled out for us on the floor to sleep.
Samarkand
In Samarkand the old landmarks are spread across town rather than assembled in the centre. I felt that makes the city more livable and easier to explore for anyone interested in more than just "sightseeing". Of course, the popular Registan square, which you see in this article's main photo by night, is a central attraction but many other old buildings, religious sites and refreshing parks spread across town and make it all <britishunderstatement>a rather nice place to visit.</britishunderstatement>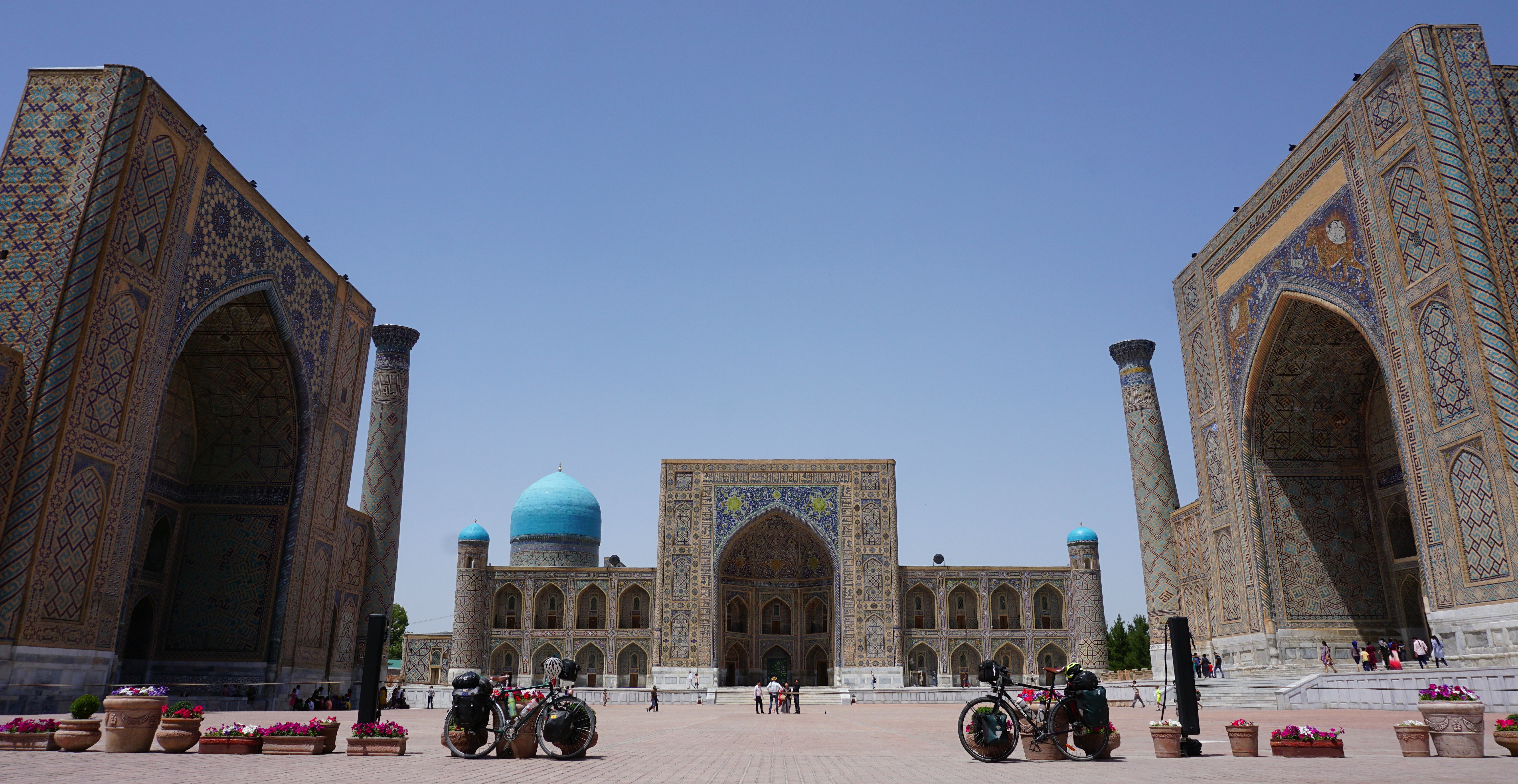 I'm not usually a huge sightseeing fan but the three madrases of Registan, which formed the heart of ancient Samarkand, are simply breathtaking. Built in the 15th and 17th centuries, they symbolised the wealth and power of the Timurid dynasty of the time and its teachings probably resonated across the whole region. And Samarkand has more: the gigantic 14th century Bibi-Khanym Mosque which statically had never been quite stable and fell apart pretty much right after completion and was only rebuilt in 1974, or the necropolis of Shah-i-Zinda, a royal cemetery from the same era, gathering more than 40 beautifully designed tombs.
Unbelievable that those impressive buildings had been around for such a long time. How must a 19th century traveller been feeling when arriving in Samarkand and standing in front of its mighty architectural achievements? Probably sadness as most of the city's pearls were in a very bad state or even ruined at the time.
As critical as I usually am of the mass tourism industry, it seems that only the appearance of Western mass tourism during the 20th century created the incentive for Uzbekistan to renovate or rebuild its sights (together with ticket offices, hotels, burger restaurants and so on). I am still torn as to whether or not all this is a good thing for the city and the country. But it appears likely that the income generated through mass tourism does eventually help this part of Uzbekistan improve living conditions for its citizens.
We also used the Samarkand days to walk across the bazaar, tried pizza and local food spots, and finally managed to acquire an Uzbek SIM card which in turn allowed us to request our visas for Tajikistan, something that has been impossible due to the breathtakingly slow landline internet everywhere in Uzbekistan. Uzbek LTE speeds at least reach 50-60kbps. 😖
What's next?
We will finally leave the flat land behind us. Only 50km east of Samarkand we will cross the recently opened border post to Tajikistan, from where over 3,000m high mountains separate us from the capital city of Dushanbe. 🚴💨